Shuchi Pandya, Founder of the Unique And Modern Jewelry Brand- Pipa Bella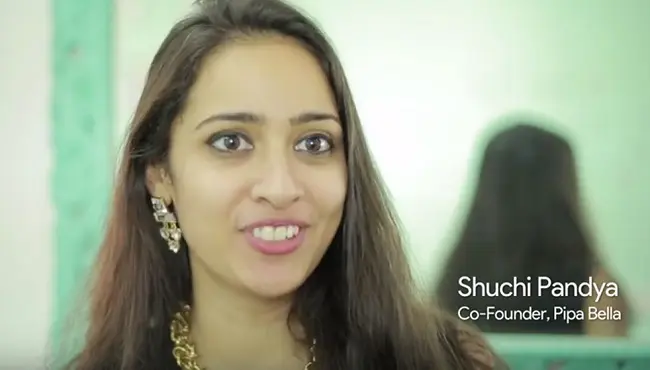 Shuchi Pandya is the founder of Pipa Bella, an innovative digital fashion firm that provides women in India with fashionable fashion jewelry and accessories. They boast a range of 1000+ distinctive, quality-assured, and inexpensive styles, as well as the finest of e-commerce, social media, personal service, and amazing loyalty rewards.
Shuchi was drawn to this industry because she was born into a family of jewelers. She grew up in a family of jewelers in Mumbai, where the topic of best business practices and the concept of producing value via company was frequently discussed at the dinner table.
She enrolled at the Wharton School of Business in 2010 to get her MBA. She started working on Pipa+Bella there, and she learned a lot about what she needed to consider when starting a new-age/tech-based company." She took an eight-week course on how to write and propose a business plan while at Wharton. She studied finance and accounting lessons as well as a coding course to fill up the gaps in her knowledge. Pipa+Bella was conceived with the help of several exceptional experts.
Pipabella disrupts a conventional sector with innovative technology tools, and in a short period of time, it has become the market leader in ten fashion jewelry categories.
Sonam Kapoor, Jacqueline Fernandes, Alia Bhatt, and Anushka Sharma have all worn Pipa Bella jewelry, and their goods have been featured in over 50 online and print fashion and business media.
Shuchi is well aware that their uniqueness gives them an advantage. The brand adds about 100 new designs every week, and they are growing their website's customisable part, where clients may submit their own patterns to be manufactured. Their business approach is inventory-based and technology-driven, and they have a 12-person staff. Pipabella.com just received the Google SMB Heroes 2017 Award and was named to Singapore's Startup-O Javelin Fund's Top 25 Startups.
Anjali Chandrashekar, Empowering Women Through Art with the help of Picture It
Anjali Chandrashekar is a young artist and entrepreneur who is using her talents to empower women and bring about positive change in the world. As the founder of Picture It, a nonprofit organization that promotes gender equality through art, Chandrashekar is working to create a world where women are empowered and their voices are heard.
Chandrashekar was born in India and raised in the United States. She developed a passion for art at a young age and began creating her own works of art in various mediums. As she grew older, she became increasingly interested in using her art to make a positive impact on the world. In 2017, while studying at the University of Southern California, she founded Picture It to do just that.
Picture It is a nonprofit organization that empowers women through art by providing a platform for women to share their stories and express themselves creatively. The organization works with artists around the world to create pieces that highlight the experiences of women and promote gender equality.
One of the ways that Picture It empowers women is through its Artist in Residence program. The program brings together artists from different backgrounds and disciplines to create works of art that address issues related to gender equality. Picture It also hosts workshops and events that encourage women to express themselves creatively and share their stories.
Chandrashekar's work with Picture It has been recognized by numerous organizations and publications. She has been named a Global Shaper by the World Economic Forum and a Young Leader by the United Nations Sustainable Development Solutions Network. She has also been featured in Forbes, The Huffington Post, and other media outlets.
Through her work with Picture It, Chandrashekar is showing that art can be a powerful tool for change. By empowering women to express themselves creatively and share their stories, she is creating a world where women's voices are heard and their experiences are valued.
Elevate Your Space with the Perfect Pendant Lighting
Pendant lighting can elevate the ambience of any space and add a touch of sophistication to your home. Whether you want to create a cosy atmosphere in the living room, a bright and functional workspace, or a warm and inviting dining area, the perfect pendant light can make all the difference. In Australia, pendant lights are a popular choice for homeowners and designers alike, thanks to their versatility and timeless appeal.
According to Statista, the Lamps & Lighting segment in Australia is projected to grow by 3.89% (2023-2027) resulting in a market volume of US$1532.00m in 2027.
Pendant Lights in Australia: Exploring Your Options
When it comes to pendant lights in Australia, there are countless options to choose from. You can find lights in various styles, materials, and sizes, so you must consider your needs and preferences before purchasing. If you're looking for handmade porcelain lighting, for instance, there are many local artisans and designers who create stunning pieces that can add a unique and personal touch to your space. On the other hand, if you prefer a more modern and minimalist look, you may opt for a sleek dome light or a flared light that adds a subtle accent without overwhelming the room.
Choosing the Right Size and Placement
One of the most important considerations when selecting pendant lights is their size and placement. A light that is too small for the room may look out of place, while one that is too large can be overwhelming and distracting. Similarly, the height at which the light is hung can impact the overall aesthetic and functionality of the space. In general, pendant lights should be hung at a height that allows them to provide adequate illumination while also complementing the surrounding decor.
Matching Your Pendant Lights to Your Decor
Whether you're looking for a hat light, a lantern-style pendant, or a cluster of lights to create a dramatic focal point, choosing a style that complements your existing decor is essential. You can choose lights that match the colour scheme, texture, or style of your furniture and accessories, or you can use pendant lights to add a pop of colour or contrast to the room.
Creating a Cohesive Lighting Scheme
While pendant lights can be a stunning addition to any space, they should be combined with other lighting sources to create a cohesive and functional lighting scheme. This may include overhead lighting, floor lamps, or wall sconces, depending on the needs and layout of the room. By layering your lighting sources, you can create a variety of moods and ambiences that can be adjusted to suit your activities and preferences.
Maintaining and Cleaning Your Pendant Lights
To ensure that your pendant lights remain in top condition and continue to elevate your space, it's essential to clean and maintain them regularly. Depending on the material and design of the lights, you may need to dust or wipe them down with a soft cloth or use a mild cleaning solution to remove stains or buildup. You should also inspect the wiring and bulbs periodically to ensure they are functioning correctly and replace any damaged or burnt-out components.
In conclusion, pendant lights can be valuable to any home or workspace, offering functionality and style. Whether you prefer a classic and timeless design or a modern and minimalist look, there are countless options for pendant lights in Australia. With careful consideration of size, placement, and style, you can create a beautiful and functional space. So why not elevate your space with the perfect pendant lighting today?
Meet Vinit Sardhana – The Political Leader, Artist, And Business Person
Everyone wants to make their own identity at some point of time in their life and many of them also achieve it, by doing something extraordinary at such a small age, Vinit Sardhana proved that Age is just a number, Sadhana is from Fatehpur Village in South Delhi, India. He is well known as the lion of the Gujjar fraternity. He belongs to the Gujjar community.
At the age of 23 Sardhana wins the election of Block Level Institution and still elected as Block Level Institution, Vinit has also done many Shoots & Song Video and the most interesting part is along with all He's a Successful Business Person.
And one more interesting thing is that he is really Good Social Worker as well he loves to help the poor and needy and also has deep love for stray animals. His love is so deep and pure.
He has always believed that there are 2 kinds of human nature- A dreamer and a Doer and so he proved to be a successful Doer, He always supports and encourages youth a lot and also encourages them to be healthy instead of intoxicated. Apart from this, he is always active on his social media platform and having a big fan base.

Follow Vinit Sardhana: INSTAGRAM