5 Things to Remember When You Buy Mens Pants
Pants are essential to a man's wardrobe, providing comfort, versatility and style. Whether you're looking for dress pants for work, casual pants for the weekend, or athletic pants for working out, a pair of pants will meet your needs. However, knowing where to start with many styles, fits, and materials can take time and effort. Here are five things to consider when you buy Mens Pants to help you find the perfect pair.
Consider the fit
The fit of your pants should be comfortable to wear, flatter your figure and give you a polished look. When shopping for pants, pay attention to the fit around the waist and hips, which should be snug but not too tight. Trying several different sizes and styles is always an excellent way to determine which pair of pants is best for you. When trying on pants, move around and sit down to get a good feel for the fit. If you're buying pants online, check the retailer's sizing chart and read product reviews from other customers to get a better idea of the fit.
Choose the right rise
The rise of your pants refers to the distance from the crotch to the waistband. Low-rise pants sit on the hips, mid-rise pants sit at the natural waist, and high-rise pants sit above the natural waistline. The rise you choose will depend on personal preference and body type, as well as the intended use of the pants. For example, high-rise pants may be more appropriate for work, while low-rise pants may be more comfortable for casual wear.
Decide on a length
In addition to the fit, the length of your pants is crucial to keep in mind when choosing the right pair. A common mistake is wearing pants too long or short, making you look unkempt or disproportionate. The ideal length of your pants hits above your ankle bone, with a small break at the top of your shoes. This length gives you a modern and streamlined look and is practical for walking and moving comfortably.
Pay attention to the material
When choosing pants, it's essential to pay attention to the material because it can impact the pants' comfort, durability, and overall appearance. Common materials for pants include cotton, denim, wool, and synthetic blends. Each of these materials has unique properties, so it's essential to consider the intended use of the pants and the climate in which you'll be wearing them.
Additionally, some pants may come with special features such as water resistance, stretch, or moisture-wicking technology, which can be useful for certain activities or weather conditions. Consider your needs and preferences when choosing the material of your pants to ensure that you end up with a pair that will meet your expectations.
Know your waist size
Knowing your waist size is vital when shopping for mens pants. A correctly fitting waistband is the key to a comfortable and flattering pair of pants, so measuring your waist accurately is important. Wrap a measuring tape around your natural waistline, slightly above your hip bones, to determine your waist size. Verify that the tape is level and snug without being excessively tight. Make a note of the measurement, and then use this figure to decide what size of pants to purchase.
In conclusion, buying mens pants can be a fun and satisfying experience when you know what to look for. By considering the fit, rise, length, material, style, waist size, pockets, and cost of your pants, you'll find the perfect pair that meets your needs and enhances your style. Remember that it's worth investing in a few high-quality pairs of pants that fit well and are made from durable materials, as these will last longer and provide better value in the long run.
Sizing, Fit, and Comfort: A Parent's Guide to Choosing High-Quality Children's Clothing
When selecting the perfect outfit for your little ones, it's essential to consider various factors, including sizing, fit, and comfort. As a parent, you may want your kid to look stylish while feeling at ease in their attire. This guide will explore tips and considerations for choosing the right designer kids clothes. Whether shopping for a special occasion or everyday wear, these insights will help you make informed decisions.
Understanding Sizing:
Finding the right size is crucial for their overall comfort. However, it can be challenging as sizing can vary across brands and countries. To ensure you select the correct size, it's essential to refer to the size charts provided by the brand or retailer.
These charts typically outline measurements for different age groups or specific body measurements. Take accurate measurements of your child's height, chest, waist, and hip to compare with the size chart.
It's important to note that children grow quickly, so choosing outfits with room for growth is advisable. This allows your child to wear the clothes for a more extended period and saves you from frequently buying new outfits.
The Ideal Fit:
While sizing focuses on measurements, fit pertains to how the outfit sits on your child's body. A good fit ensures that the looks and feels comfortable. Consider the following factors when assessing the fit of designer childrenswear:
Shoulders: The seams of shirts or dresses should align with your child's shoulders. If the garment hangs off the shoulders or is too tight, it may cause discomfort.
Sleeves: Look for sleeves that are long enough to cover the arms adequately but not too long that they restrict movement. Ideally, the cuffs should rest at the wrists comfortably.
Waistband: Whether it's pants, skirts, or shorts, the waistband should fit snugly without digging into your child's skin. Elastic waistbands are often more forgiving and provide flexibility.
Length: Pay attention to the length of bottoms such as pants, skirts, or dresses. They should be too long or short, allowing your child to move freely without tripping or feeling restricted.
Comfort is Key:
Comfort plays a significant role in ensuring your child's happiness and well-being throughout the day. Scratchy fabrics, tight waistbands, or rough seams can make your child uncomfortable, leading to irritability and restlessness. Here are some factors to consider for optimal comfort:
Fabric: Choose soft, breathable, and gentle fabrics for your child's delicate skin. Natural fibres like cotton, linen, and bamboo are excellent choices as they allow air circulation and help regulate body temperature.
Seams: Check the seams of the outfit for any rough edges or bulky stitching that could cause discomfort. Flatlock seams are ideal as they lay flat against the skin and minimise irritation.
Labels and Tags: Look for clothing with printed labels or tags that are easily removable. Itchy labels can irritate your child's skin, and removing them ensures a more comfortable experience.
Freedom of Movement: Ensure that the clothing allows your child to move and play freely. Stretchy fabrics or garments with a bit of stretch in key areas, such as the waistband or sleeves, provide ease of movement.
Conclusion:
When choosing designer kids wear, prioritising sizing, fit, and comfort is essential. Considering the mentioned factors, you can ensure that your little ones look stylish while feeling comfortable throughout the day. Remember to consult size charts, assess the fit of the clothing, and prioritise fabrics that offer optimal comfort. With these specific considerations in mind, you'll be able to make informed choices and provide your child with clothing that they love to wear.
A Young and Dynamic entrepreneur who is making a big impact in the fashion industry with 6yardsandmore, Ipsita Dash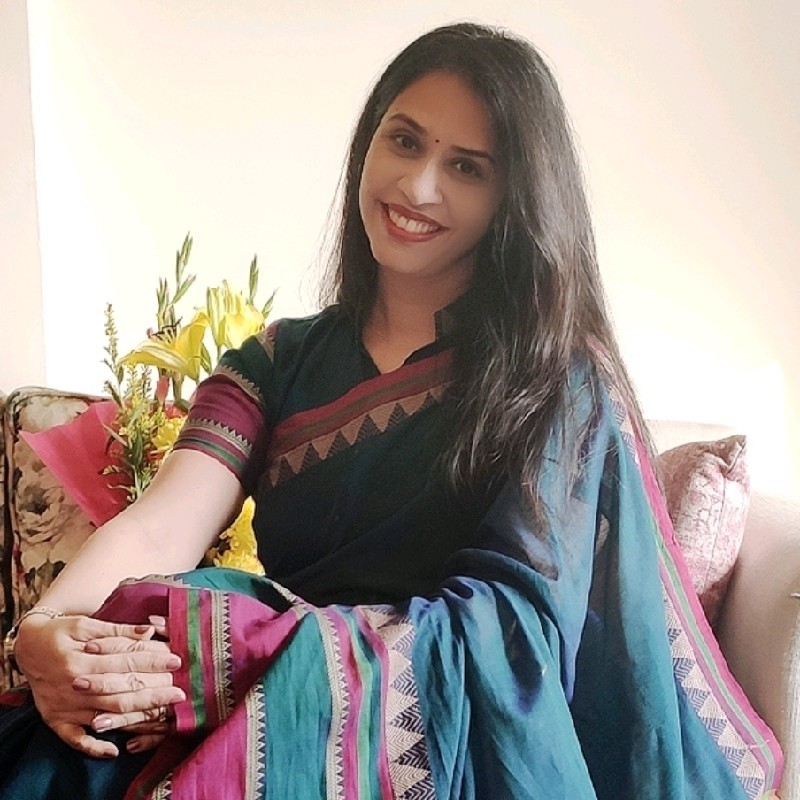 Ipsita Dash is the founder of 6yardsandmore, which is a popular online store that specializes in selling traditional Indian fabrics, such as sarees and fabric yardages, to customers all over the world.
Ipsita's journey as an entrepreneur started with a passion for fashion and a desire to promote traditional Indian fabrics and textiles. With 6yardsandmore, she has achieved just that, offering customers a wide range of high-quality and authentic Indian fabrics at affordable prices. The store has become a popular destination for those who appreciate traditional Indian fashion and textiles, and has received widespread acclaim from customers and industry experts.
As a store, 6yardsandmore has grown rapidly since its launch and has a large and loyal customer base, with a high level of customer satisfaction and repeat business. This success can be attributed to Ipsita's vision and commitment to providing high-quality products and excellent customer service.
Ipsita began selling sarees and accessories in 2016 with the assistance of her sister Vinita Dash, who manages business operations from Kuwait. Ipsita handpicks and curates the startup's primary product, the six yards or the sarees, from various weavers in isolated areas all across the country in an effort to highlight all gorgeous weaves from the nation
With 6yardsandmore, she has developed a platform that offers clients high-quality goods and exceptional customer service while promoting and preserving traditional Indian clothing and textiles. Dash is a tremendous asset to the industry and a role model for budding business owners thanks to her vision and enthusiasm for fashion.
Unconventional Men's Diamond Wedding Rings That Break the Mould
When it comes to men's wedding rings, the traditional options have always been a simple gold or silver band. However, with the rise in popularity of mens diamond wedding rings, there has been a shift towards more unconventional and unique styles that break the mould. These rings make a statement and add a touch of personal style and flair to the groom's wedding attire.
The following section of this article will explore some of the most unconventional wedding rings for men that can make them stand out. So, if you want to step aside from the crowd and make a statement on your big day, keep reading.
Black Diamond Rings
Black diamond wedding rings can add the touch of edginess you want on your wedding day. Black diamonds have a dark and mysterious appearance that can create a striking contrast against a lighter metal, such as white gold or platinum. They can also be set in darker metals like black titanium or gold for a dramatic effect.
Black diamond rings can be designed with a variety of settings and styles. They can be set in a classic solitaire style or surrounded by smaller white diamonds for added sparkle. They can also be set in a more modern design, such as tension or a bezel setting.
Nature-Inspired Rings
Nature-inspired wedding rings are a great way to show your love for the outdoors while still adding a touch of luxury to your wedding day. These rings are often designed with natural elements such as leaves, branches, and flowers. They can also feature unique stone settings, such as marquise, pear, and oval-cut diamonds. Nature-inspired wedding rings are perfect for grooms who want something that is both striking and elegant.
Geometric Rings
Geometric wedding rings can be both contemporary and timeless. These rings feature clean lines and shapes, such as triangles, hexagons, and squares. Geometric wedding rings can be made from various materials, such as gold, silver, titanium, and platinum. They can also feature diamond accents or be entirely covered in diamonds.
Coloured Diamond Rings
Mens diamond wedding rings are available in different colour options, which look unconventional and stylish. Coloured diamonds come in various shades, including yellow, pink, blue, green, and red. These diamonds are perfect for grooms who want to add a pop of colour to their wedding attire. Coloured diamond wedding rings can be set in various metals, such as gold, platinum, and titanium.
Mixed Metal Rings
Mixed metal wedding rings are a great way to show your style and add a touch of individuality to your wedding day. These rings feature two or more metals, such as gold and platinum or silver and titanium. Mixed metal wedding rings can also feature unique diamond settings, such as tension or flush settings.
Alternative Diamond Cuts
Traditionally, round diamonds have been the most popular choice for engagement and wedding rings. However, alternative diamond cuts are becoming more popular for men's wedding rings. These cuts, such as the cushion, emerald, or asscher cut, offer a unique and unconventional look that sets the ring apart. Alternative diamond cuts can also create a vintage or antique feel that adds a touch of sophistication and elegance to the ring.
Men's wedding rings have come a long way from the traditional plain band. From the classic round brilliant cut to the unconventional black diamond, wedding rings for men are now available in endless styles. No matter which style you choose, it's essential to ensure that the ring is made from high-quality materials and crafted with care and attention to detail. With the right ring, you can create a meaningful and lasting symbol of your love that you'll treasure forever.