The Aligarh DM Who Sent Dr Kafeel Khan To Jail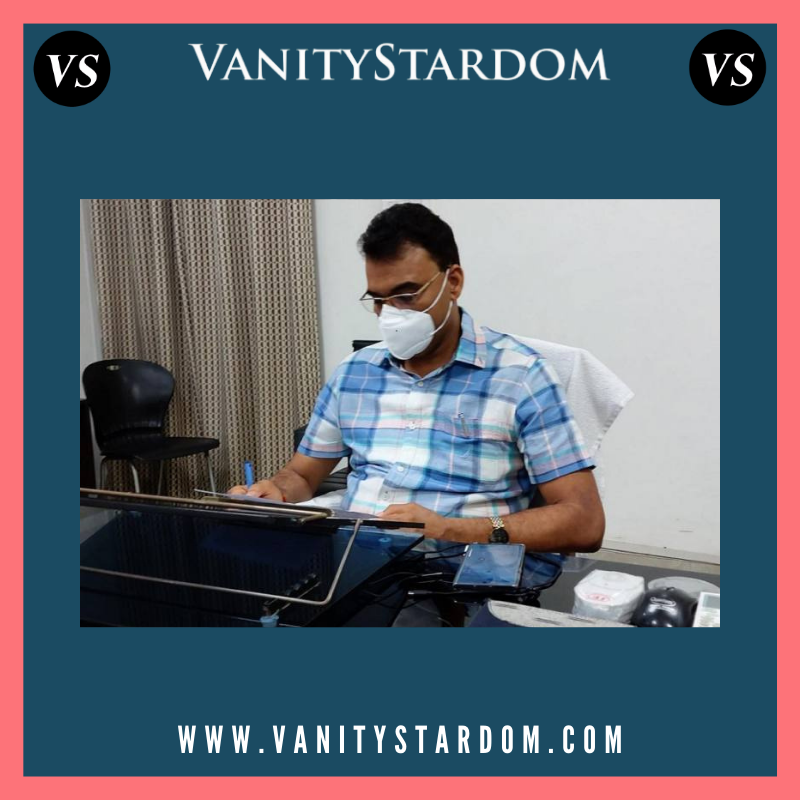 The Allahabad High Court, while releasing Dr Kafeel Khan from Mathura Jail, has observed that Dr Khan's speech is not such that "a reasonable man could have arrived at a conclusion as the inference drawn by the District Magistrate, Aligarh."
Chandra Bhushan Singh, District Magistrate of Aligarh, had invoked section 3(2) of The National Security Act, 1980 on February 13 and passed an order to continue the detention of Dr Khan.
His order came after the Chief Judicial Magistrate of Aligarh granted bail to Dr Khan on February 10 in a case in which it has been alleged that he addressed a gathering of 600 students at Aligarh Muslim University on December 12 and incited them for communal violence.
The Allahabad High Court set aside the order of detention under NSA on September 1 and released Dr Khan from Jail.
Commenting on the rationale behind the DM's order the court said, "Our anxiety is only to assess that as to whether a reasonable man could have arrived at a conclusion as arrived by the District Magistrate, Aligarh? Prima facie, the speech is not such that a reasonable man could have arrived at a conclusion as the inference drawn by the District Magistrate, Aligarh."
When contacted, Singh didn't respond to the HC's observations.
This is not the first time that Singh has courted controversy. Before being appointed as DM, Aligarh, he held various positions such as DM and Collector of Azamgarh and Sonbhadra. Appointed as IAS on August 13, 2014, he started his career as Joint Secretary to the Govt of UP Irrigation & Water Resource Dept in Lucknow.
Exploring the Surprising Benefits of SEO with Outreach.Solutions
In business, the first step to success will always be through publicizing and promoting your business to the world. The most potent way for businesses to advertise themselves, especially on the internet, is through spreading your business proposition from one person to another, thus attracting more people to go back to your website. A poor performance rating in your business number is usually caused by the lack of publicity which results in lack of customers, poor sales, and in more serious cases, it could even result at the end of said business.
Access to any business, service and establish was extremely scarce in the past as it can only be done physically. Nowadays, thanks to the invention and innovation of the internet, access to these services is made considerably easier as online platforms are readily available to conduct business and trade with relative ease. Through the power of the internet, businesses can grow and expand their services to a national and global scale as they can reach customers far beyond their operating area.
Reaping these benefits, however, comes with a set of few unique problems of publicity and recognition with unique solutions and approaches to solve them. Thankfully, the people behind Outreach.Solutions are here to help you promote and nurture your business through keen utilization and implementation of the online world.
What is Outreach.Solutions and Who are the People Behind it?
Outreach.Solutions is a Search Engine Optimization (SEO) service and link-building agency that allows their clients to generate traffic and publicity towards their website. This is done by boosting and improving their website's rank position in popular search engines such as Google, to appear on the first pages of the search result. The link-building agency was founded by Sabahat Ali (Seb) who, as a person, was always keen on researching and becoming a researcher, he developed into the career he has today.
Outreach.Solutions started after Seb was exposed to SEO and its capabilities during his time working at a content writing firm. The agency has since then blossomed from a strong passion project to a full-fledged service with clear results.
What are the Benefits of Working with Outreach.Solutions as your Go-To SEO Team?
Outreach.Solutions promises a myriad of benefits that come from working with them and have since stayed faithful to these promises. For starters, they offer on-time delivery as they greatly value time management as time is one of the most important resources for any business trying to grow in a competitive environment—the team over at Outreach.Solutions work quickly and efficiently to ensure that they meet your time demands.
Next, the agency also offers Cheap and Affordable Pricing that is free from any hidden charges. All the services offered by Outreach.Solutions have a fair price tag attached to them for the sake of their clients and users. They also offer different installment plans for more flexible payments for smaller clients that want to build their business without spending a lot in one go. Lastly, they also forgo any hidden charges as they want to build your trust in them by displaying everything you need to pay and the transparency to go along with it.
Aside from those benefits, Outreach.Solutions also offer a unique outreach link-building service through backlinking posts that not only help boost your traffic and ratings but also help you keep that boost for the foreseeable future. Here is a quick rundown of this special service.
Guest Posting Links
The most popular option that is available on the website, availing this service allows you to stay competitive in the market as you can stay ahead of your competitors thanks to the way the service works as a whole. Furthermore, this generates the most amount of organic traffic growth to your website which is made all the more beneficial when used in domains with a good backlinking profile.
Link Insertion in Existing Post (Niche Edits)
Similar to the previous service, this service follows the same principle as the last one but has its own set of unique benefits when the two are compared. The biggest benefit to this is that content is posted on top pages of popular search engines such as Google with precise usage of niche-relevant keywords.
The unique benefit of using this service is how it greatly encourages traffic from specific regions and areas which is great if you are looking to build your business locally or internationally depending on what your company is aiming to achieve.
Why Consider Availing These Services and SEO in General?
With everything said and done, you might be questioning why you should go out of your way to avail of these services and SEO in general. Here are things you might want to take into consideration as to why you should go into this investment:
You Want Long-Term Results
SEO provides one of the best long-term solutions to the long-term problem of promoting yourself on the internet. Availing of these services not only solves this initial problem but leaves you with a solution that can last for several years making it worth your time and money.
The long-term results you get from following these services make the initial investment you made go back to you for several years and more thanks to how SEO works in its base design.
You Want to Easily Reach your Target Audience
The internet is understandably crowded so you can have a considerable time reaching your target audience. SEO is once again a great solution to this as it filters traffic to your website to the appropriate demographic for any niche content.
The consideration that comes into this is the payoff you get from basing your service off a niche topic/consent as great SEO agencies such as Outreach.Solutions will be able to give you the traffic and growth you need.
You Are Building your Website Online
Building your website's publicity and reputation from the ground up is more than enough of a reason to avail of SEO as it is one of the cheapest and most effective options when it comes to website growth and development.
This is perhaps the biggest consideration that you should make as growing a business can be difficult regardless of if you are starting or you have already been in the market and industry for several years.
Meet Scammer Franklin Eugene – American Film Producer And Fashion Designer
While the web has associated us with more data than any other time, the present computerized age has made it simpler for con artists to execute their fake actions. From artificial online media postings to secret word phishing for monetary records, con artists have discovered innumerable approaches to get their hands on other people groups' cash.
Now, there is a new way of frauding talented and upcoming blokes by asking them for work whether it is of any kind (legal)  in exchange of payment and denying the payment after the work is done.
The victim of this new way is not anyone else, it's me. I Built a Google Knowledge Panel of Scammer Franklin Eugene the order come up from Fiverr, I completed the task on time and got 5-star review from Franklin. After few days i got another order from Franklin regarding updation in their Google Knowledge Panel, I did my work by putting my all skills of updation there but due to some response issue from Google (That was on UPDATE) it's delayed and after few weeks they approved the changes which i requested. But the order was canceled because it was taking long so i told Franklin to cancel it but I already did the updation it will take time to reflect so once it get reflected i'll let you know then you can pay to me.
But after i messaged him about the same that your GKP is updated he keep ignoring and yesterday he denied to pay. As in Crisis, I invested in their work and he denied to pay. And he tortured me that he will gonna report me on Fiverr.
Franklin Eugene is an American film producer and fashion designer. He also established a design company, Franklin Eugene International, which creates men's alta moda (haute couture), men's luxury and ready-to-wear, and men's and women's Italian leather accessories, which have also appeared at Milan Fashion Week in 2019.
So, we have to be aware of such scammers who are able to fraud us by using their social media presence and we have to teach them a lesson by not accepting their upcoming work and creations.
How To Increase Productivity Of A Halal Food Business?
A growing need for products with Halal guarantees has arisen as a result of the yearly growth in demand for halal products, including goods and services, particularly for food and beverages. Global awareness and demands are on the rise, which has led to an increase in halal food and beverage producers in both Muslim and non-Muslim nations.
In Asia, Africa, and Europe, the demand for halal goods increased significantly. This has also led to a rise in consumer demand for halal goods, which has increased the pressure on manufacturers to adhere to Islamic law when creating food and beverage products.
The advantages of health concepts, which continuously influence consumers' eating habits, are the main factors driving the global growth of the halal food market. As a result, halal food is now more widely accepted by consumers in non-Islamic communities. Muslims living in non-Muslim communities use multiple Islamic apps to locate the nearest Halal food outlet. Muslim Pro an Islamic app that covers a diverse range of topics; from da'wah to food recipes, Islamic finances and locate Halal food outlets.
Additionally, a variety of halal foods are offered to consumers by food manufacturers, which has contributed to the market's positive growth. As the number of Muslims in the world rises, so has the consumption of halal food; as a result, the halal market grows as an individual niche.
1. How To Increase Productivity Of A Halal Food Business?
The success of Halal food business depends on compliance with standards, guidelines, and procedures related to hygiene, cleanliness, quality, trustworthiness, and safety in addition to what is deemed permissible, acceptable, or even legal.
The productivity of a Halal food business relies on the following:
2. Make The Food Supply Chain In Compliance With Sharia Law:
The food supply chain has a significant impact on the productivity of a halal food business and the quality of its service. To ensure Sharia law compliance from the point of origin to the point of consumption in a Halal supply chain, the total of these individual activities must integrate seamlessly across all business activities. However, the complexity of international trade and the lengthening food supply chains have made compliance more difficult.
The interdependencies that characterize and shape modern halal supply chains are put to the test as goods move through every stage of production and between enormous distribution networks in the direction of the consumer.
3. There Shall Be A Strong Relationship Between Supplier And Producers:
Suppliers and producers must now strengthen their relationships with retailers and customers to meet the higher expectations placed on them to ensure their long-term viability. Due to the expanding customer base, efficiencies and speed to market are being prioritized more.
While effectiveness and efficiency are essential elements of any supply chain, suppliers must also be aware of the maintenance of product quality and the reliance on certification processes, both of which can affect the integrity of Halal.
Therefore, suppliers and producers need to make sure that the infrastructure, facilities, and logistics equipment that support distribution comply with legal requirements. This equipment and infrastructure must be routinely maintained, cleaned, and equipped with the necessary safeguards to prevent contamination.
Suppliers must make sure they have complete control over all phases of distribution, including full transparency in product movement, to ensure chain compliance. Securing the logistics-related services required to implement preventive or mitigating measures along the supply chain depends on this transparency or visibility.
4. Workers Shall Be Trained:
Consumers' concerns about food origin, authenticity, safety, and quality are growing as they become more educated, knowledgeable, and aware of global food safety crises and incidents. As workers develop the necessary capability along Halal food supply chains to meet these market expectations, the human element thus becomes a crucial piece of the puzzle.
5. Regulation And Certification Of Food Production Processes:
Currently, assurance, regulation, and certification of food production processes are the main areas of focus for Halal compliance. Concerning production, manufacturing, on-farm facilities, and slaughtering facilities, these related standards work to regulate cleanliness, hygiene, and cross-contamination with non-Halal foods. Physical segregation is essential to maintaining the product's Halal status not only during the production phase but also throughout the supply chain.
6. Proper Hygiene Is Carried Out:
All participants in the Halal supply chain must make sure that proper hygiene upkeep is carried out. Regular inspections of the waste, pest, and cleaning systems of all logistics service providers should be part of this program. It is necessary to adhere to established procedures and keep an eye on the distribution team's hygiene. While the product is in transit, these compliance regimes should also include appropriate hygiene control measures and protocols.
7. Halal Products Shall Come With Proper Labels:
Halal products must also have prominent labels that are easy to read for identification. Additionally, to maintain continuity and integrity of product flows, all employees performing operational duties should receive adequate training in Halal food hygiene and protocols.
8. Consider Halal Food Traceability:
Since more instances of the misuse of the Halal Certification and Regulatory logos have been discovered, halal food fraud appears to be on the rise. These dishonest tactics show that it is difficult to determine product compliance. All participants and stakeholders in the halal supply chain share responsibility for halal food traceability. To identify the product, process, participant, and marketing attributes as well as the associated logistics data in the supply chain from both an upstream and a downstream perspective, halal traceability aims to be recorded at each node and stored centrally in a secure database.
Halal certification and regulatory bodies must introduce standardization protocols using the same accreditation standards to further facilitate the implementation of traceability. To increase the transparency of information flows within the supply chain, traceability and tracking systems are tools for quick communication, which necessitate intensive cooperation from all parties.
It is important to note that the absence of agreed-upon Halal standards that are acceptable to Muslims worldwide presents a significant barrier to the continued security of the Halal industry and the growth that follows. It is known that each country has its Halal compliance standards, which makes control and checking challenging.
Final Thoughts!
The demand for Halal products has significantly increased. This has increased consumer demand for Halal products, which has put more pressure on manufacturers to produce food and beverage products in accordance with Islamic law. To increase the productivity of a Halal food business, is to make sure that the food supply chain is in compliance with the Sharia law and all standards, guidelines, and procedures related to hygiene, cleanliness, quality, trustworthiness, plus safety are considered.