Dhaval Ajmera Nurturing a Legacy of Real Estate Excellence
Behind every enduring family business lies a profound understanding of values, trust, and the ability to adapt to the unique perspectives of each generation. Dhaval Ajmera, a second-generation entrepreneur and Director of Ajmera Group of Companies, unveils the remarkable journey of a small family business that has grown into a formidable name in the real estate sector. This is a story spanning five decades, radiating from its roots in India to the UK and Bahrain. The Ajmera legacy traces its origins to an ordinary boy, Chhotalal S Ajmera, fondly known as Chhotubhai. Hailing from Vasavada, a quaint village in Gujarat, Chhotubhai embarked on a remarkable journey that would eventually establish the NSE-listed Ajmera Group as one of India's most renowned real estate companies. His vision was clear—to provide affordable housing solutions for the middle-class.
Chhotubhai's ambitious endeavor commenced with the construction of a township in Mira Road, Mumbai, a project that would go on to house an astonishing 16,000 flats across 600 buildings. This township, as Dhaval proudly asserts, marked a historic milestone as "Asia's first-ever township of this scale." However, Chhotubhai's vision extended beyond bricks and mortar; he aimed to create vibrant, liveable communities enriched with essential amenities. Over the years, the Ajmera Group of Companies, under Chhotubhai's leadership, has delivered a staggering 45,000 apartments, encompassing an expansive 30 million square feet of space across India. In the fiscal year 2021, Ajmera Realty and Infra achieved sales amounting to Rs 617 crore, contributing significantly to the group's total sales of Rs 900 crore within the real estate sector.
Looking ahead, Ajmera Realty and Infra has outlined an ambitious plan for the next 15 months. The company is gearing up for the launch of seven new projects, spanning a total of 3.2 million square feet in Wadala, Ghatkopar, Juhu, Pune, and Central Mumbai in Maharashtra. These projects collectively represent an estimated sale value of approximately Rs 4,400 crore, showcasing the group's unwavering commitment to growth and innovation. Ajmera's influence has transcended borders, venturing into international territory with small-scale residential projects in London. This foray into global markets underscores the group's aspiration to become a significant player on the international stage while continuing to enhance its domestic presence.
In a world where the real estate landscape is constantly evolving, Dhaval Ajmera stands as a testament to the enduring success of family businesses that prioritize innovation, adaptability, and a steadfast commitment to their core values. As he continues to guide the Ajmera Group into the future, Dhaval's journey serves as an inspiring example for entrepreneurs worldwide, showcasing the transformative power of determination, vision, and unwavering dedication to a legacy of excellence.
Arjun Aggarwal Transforming India's Real Estate and Fashion Landscape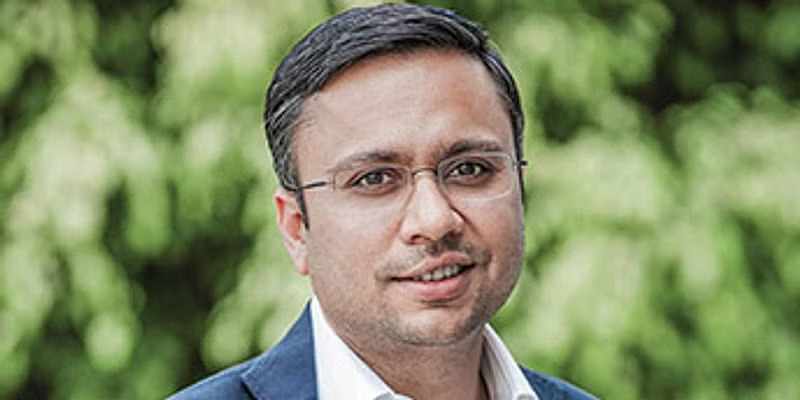 Success often emerges from audacious decisions and unwavering determination. Arjun Aggarwal journey is a testament to this philosophy. He is the force behind the Bhartiya Group, an Indian conglomerate that spans diverse sectors, from fashion to real estate. Arjun's remarkable entrepreneurial spirit, coupled with his ability to envision and execute grand ideas, has shaped Bhartiya Group into one of India's most prominent business entities. Snehdeep Aggarwal, Arjun's father and the founder of Bhartiya Group, kick-started the familie's entrepreneurial journey in the late '70s. While Arjun hailed from a lineage of traders dealing in dry fruits and spices, he had different aspirations. In 1979, Snehdeep launched a carpet business, beginning with a modest capital of Rs 50,000 borrowed from his father. Little did he know that this modest venture would evolve into the colossal Bhartiya Group, spanning multiple industries.
Diversifying the Portfolio:
Snehdeep's keen business acumen led him to diversify his initial carpet business. Recognizing India's export potential, he ventured into leather exports to European and Asian markets. The move was a resounding success, establishing Bhartiya Group as a major player in the leather export industry. In 1987, the group expanded further by entering the fashion market. Arjun Aggarwal founded JV Inflorescence, a design studio based in Italy, the epicenter of global fashion. The studio's designs soon caught the attention of international brands like Hugo Boss, Armani, Zara, and Mango. Bhartiya Fashion was born, now a leading manufacturer of leather apparel and accessories, supplying top fashion brands in Europe and North America.
Venturing into Real Estate:
In 2007, Arjun Aggarwal decided to leave his mark on the family business. Having gained valuable international exposure through his studies and work abroad, he envisioned a lifestyle revolution in India. Recognizing a lack of quality entertainment and lifestyle destinations beyond five-star hotels and malls, he conceived Bhartiya City, a ground-breaking project in Bengaluru. Bhartiya Urban Development, a subsidiary of Bhartiya Group, was established with a vision to create intelligent cities that enhance urban living. Bhartiya City in Bengaluru is an embodiment of this vision, offering residents an array of amenities including green spaces, high-street markets, recreation clubs, theaters, and much more.
Like any successful venture, Bhartiya Group has faced its share of challenges. Government initiatives such as RERA, GST implementation, and demonetization reshaped the real estate sector. These changes affected players relying on unaccounted money, which had been prevalent in the industry. Arjun acknowledges that finding a middle ground between affordable luxury and international standards remains a challenge.
In fashion, ongoing production challenges and quality concerns in construction materials persist. However, Bhartiya Group tackles these obstacles with resilience and innovation. Despite the disruption caused by the COVID-19 pandemic, Bhartiya Group remains steadfast in its commitment to growth. The fashion sector, like many others, faces uncertainty, but the group aims to accelerate production post-lockdown. In real estate, Arjun Aggarwal envisions a future shaped by customers' desires for privacy and luxury. Bhartiya Group is developing concepts that provide residents with five-star facilities and maintenance, setting new standards for luxurious living. The forthcoming Bhartiya Leela Residences exemplify this commitment.
Moreover, Bhartiya Urban City plans to expand its residential and IT park projects, along with a Convention Retail Mall within Bhartiya City. This ambitious endeavour will host an array of F&B brands, destination restaurants, multi-screen theatres, and more. Arjun Aggarwal's journey exemplifies the transformational power of vision and innovation. Under his leadership, Bhartiya Group has evolved into a multifaceted conglomerate, leaving an indelible mark on India's fashion and real estate sectors. As the group navigates challenges and embraces innovation, it stands poised to continue reshaping the landscape of urban living and fashion in India.
How to Grow as a Toronto Real Estate Agent | TAKEOVER with Randy Selzer
Randy Selzer's name rings in many popular neighborhoods in the GTA. The Greater Toronto Area and Randy Selzer are definitely one with each other. But a true fact that Randy has shared with us – "You can't be a jack of all trades in this business. Your niche city, is your niche market. Become an expert in it so you're the only one a customer can trust to call."

Today we're going to talk about how the well-known Toronto Real Estate Agent has become an influential agent in Toronto/Mississauga and how he has grown to where he is today. For the past 30 years Randy's been selling homes back and forth continuously.
Being a realtor, but not just any realtor.. a SUCCESSFUL realtor is a glamorous luxury life in the eyes of aspiring new agents or like-minded individuals thinking of entering the real estate field. Truth is it can be, but there's much to know and learn about how to sell a home before jumping into this industry.
Randy Selzer is a single agent in a province with over 60,000 people with a real estate license (permitting them to sell homes) which is an OUTRAGEOUS amount of competition. The Toronto Area is a very high saturated location with tons of opportunity, but tons of challenges. Randy shares with us that you need to differentiate yourself from the rest of the crowd. "What are you doing differently than what everyone else is doing right now?" Randy says to us.

An established agent, been in the business for the 30 years. Selzer explains that with even all the success you've achieved so far, you still have to continue moving forward and growing the same way, if not even more than the last time due to the high density of competition and passionate new agents. "If you're not growing, then you're dying". Randy says based on a seminar he learnt from Bob Proctor. Randy is clear about the cities which he excels in. Mississauga being his number one, and everything else nearby being a secondary. He's definitely great at serving homes beyond his region of Mississauga but within his hometown city, he's not great. He is outstanding. Randy explains to us that many agents will go out of their way to promote that they can provide service in Toronto, Brampton, Mississauga, Vaughan, Hamilton, Niagara Falls, Burlington, Oakville, Barrie, etc. But these agents are forgetting that they're also saying that they're not an EXPERT in their one main specific city. Why is that? Because they're spreading themselves too thin and won't know prices, bidding war strategies, turnaround times for a buy or a sell, and many more in their main city. Selzer sums it up for all of us – "Everyone will call you for help in that sector because you know that sector BETTER than anyone else".
Randy Selzer understands serving your customers needs. We all can agree that main reason one may sell their home is because there's a profit within it. But there has to be more to it. We asked Randy what other hidden gems could there be within the buying/selling margins? Working not only with just families, but investors as well. Condos. New builders. Become platinum in your city. When you're platinum in your city, you don't have to think to give a price on a home in your area, you just know it. Because you have knowledge and authority in your sector. So most definitely from what we've learnt from the successful Toronto Agent is that you have to know the area in which you're promoting yourself in. But not only have we noticed Randy Selzer exceling in sales on Toronto/Mississauga homes, we've also seen him grab the eyes of social media watching what he does and sharing his beliefs, strategies, mindset, artistic style and imagery, and tons more.

Randy has built an audience of over 25,000 individuals following him on across different social media platforms keeping up with his content. Prioritizing your online brand, website and presence may just be another secret to staying relevant within the changes and evolutions of the business and online world.

Keep up with Randy Selzer and even ask him questions here!

Instagram – https://www.instagram.com/randyselzer
YouTube – https://www.youtube.com/channel/UCPY5ueQ5IPMP9cYpPdOzDjQ
Twitter – https://twitter.com/randyselzer
TikTok – https://www.tiktok.com/@randyselzer
Website – https://www.randyselzer.com/

Nadia Musharbas – Popular Real Estate Investor
Nadia Musharbas is a land intermediary in the Greater Toronto Area in Canada where she has procured the certainty of a few customers due to her warm character and ability in the business. Nadia holds more than 12 years of involvement with individual and business banking, with more than 18 or more years in land contributing, and holds a PFP assignment from the Canadian Securities Institute.
As far as she can recall, Nadia has consistently had a partiality for real estate and investing. She was 21 when she was acquainted with the real estate investing world. Also, being a resolved and persevering individual, she chose to make it into a side hustle. From that point, she never thought back and pondered how she might do this all the time where she can do what she adores and have enough to ultimately reward individuals she esteems throughout everyday life. It later occurred to her to begin a profession as a land intermediary.
In 2017, she was one of Scotiabank's top business counsels in Toronto, getting $60 Million in deals. Nadia Musharbas has been exhorting loved ones on their land buys for quite a long time, and was eager to grow her insight into the business as a Sales Representative and presently Real Estate Broker in this next phase of her vocation.
Nadia's quite a long while experience and enthusiasm for the business radiate through in her commitment to her customers. She needs to guarantee the two purchasers and merchants are instructed about their decisions to offer the greatest assistance conceivable.